PROJECT OVERVIEW
Project name: Sunshine Center
Owner: Sunshine Group
Location: No. 16 Pham Hung, Nam Tu Liem, Hanoi
Investment capital: VND 2,000 billion
Height: 36 floors
Number of basements: 4 floors
Area: 4600 m2
Total construction area: 125,000 m2
Floor area (not including technical floor)
Number of apartments: 214 units
Type: commercial area - office and apartment
Type of apartment: Studio, Officetel, Penhouse
Expected handover: 2nd quarter of 2019
Located in a strategic position on Pham Hung Street, which is dubbed the diamond strip of Hanoi, inspired by Trump Tower - the focus of New York, Sunshine Center marked by design style Contemporary with royal and noble features, showing the level of billionaires. It contains sustainable value for an upscale life, the project is present as an expensive highlight in the West of the capital, a classic property of Sunshine Group with the mission of confirming the level of a new symbol .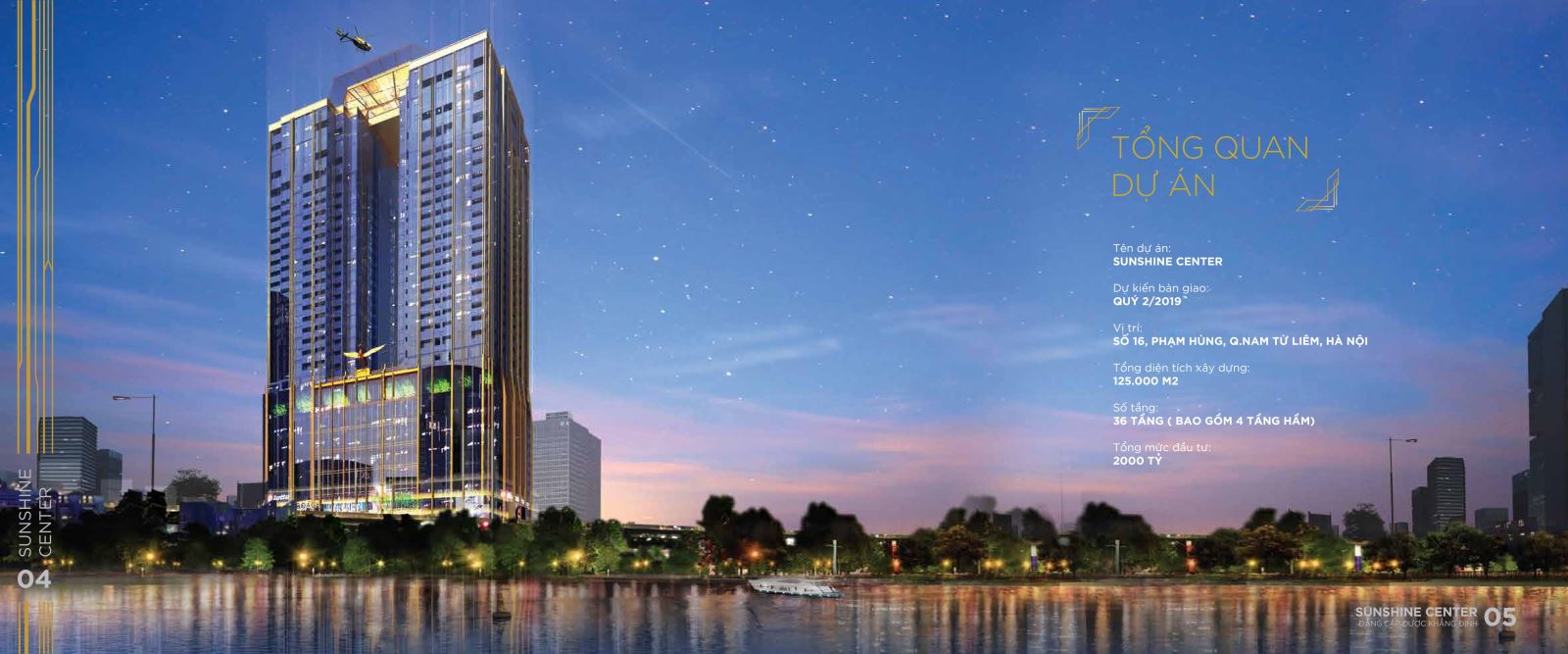 LOCATION OF PROJECT
Sunshine Center apartment project is located at 16 Pham Hung Street - one of the main roads connecting the inner city with the elevated highway of Hanoi's suburban belt 3. Not only that, Pham Hung is also the main road approaching Xuan Thuy - Cau Giay axis going to the center of Hanoi thanks to the road system and the modern elevated road Metro station - Hanoi Railway Station. Because it is located entirely on that arterial route, Sunshine Pham Hung Condominium enjoys "thousands of advantages" from its central traffic location, facilitating future residents of the Sunshine Center in transportation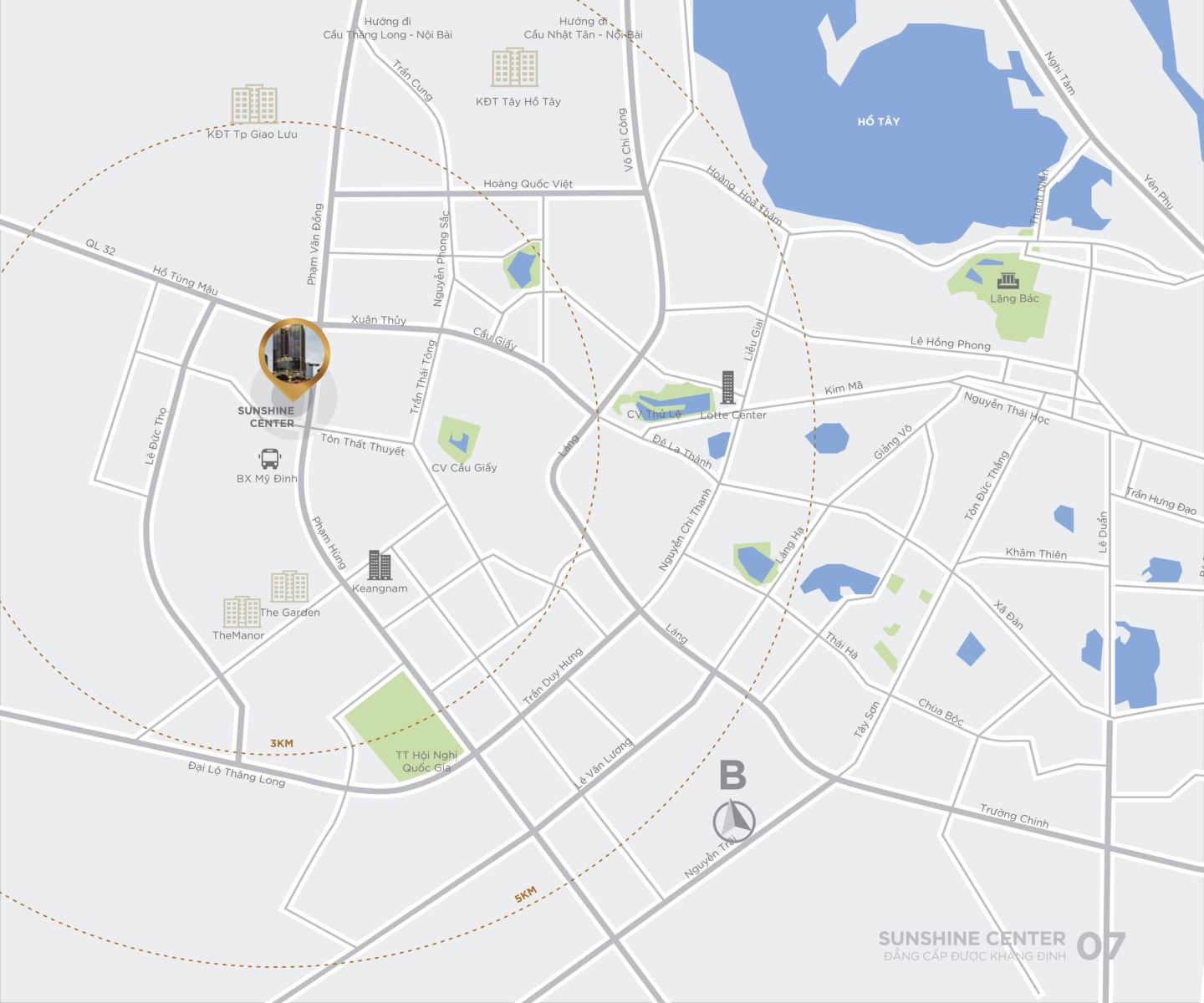 LINKS AREA FROM THE SUNSHINE PHAM HUNG PROJECT
»Eastern of Sunshine Center project: Adjacent to Cau Giay urban area, Ministries (Ministry of Natural Resources and Environment, Ministry of Interior ...), large corporations (FPT, Toyota)
»Southern side: Adjacent to My Dinh Urban Area 1 and 2, My Dinh Stadium, major Universities (National University, University of Commerce, University of Cinema ...)
In addition, Sunshine Center Pham Hung also has the advantage of a residential real estate project, when the location is close to schools, hospitals, amusement parks:
»School system: Doan Thi Diem, Marie Curie, Le Quy Don ...
»Hospital system: Hospital 198, Hematology Institute and Central Blood Transfusion
»Play area: Cau Giay Park, Hoa Binh Park ...
DETAILED SURFACE DESIGNED:
Luxury Royal Architecture
Sunshine Center takes modern inspiration from Trump Tower - New York's focal point, with its sophisticated glass design and magnificent gold-plated reliefs. Art space in the innovative modernism, brings a completely different concept for a truly high-class, luxurious life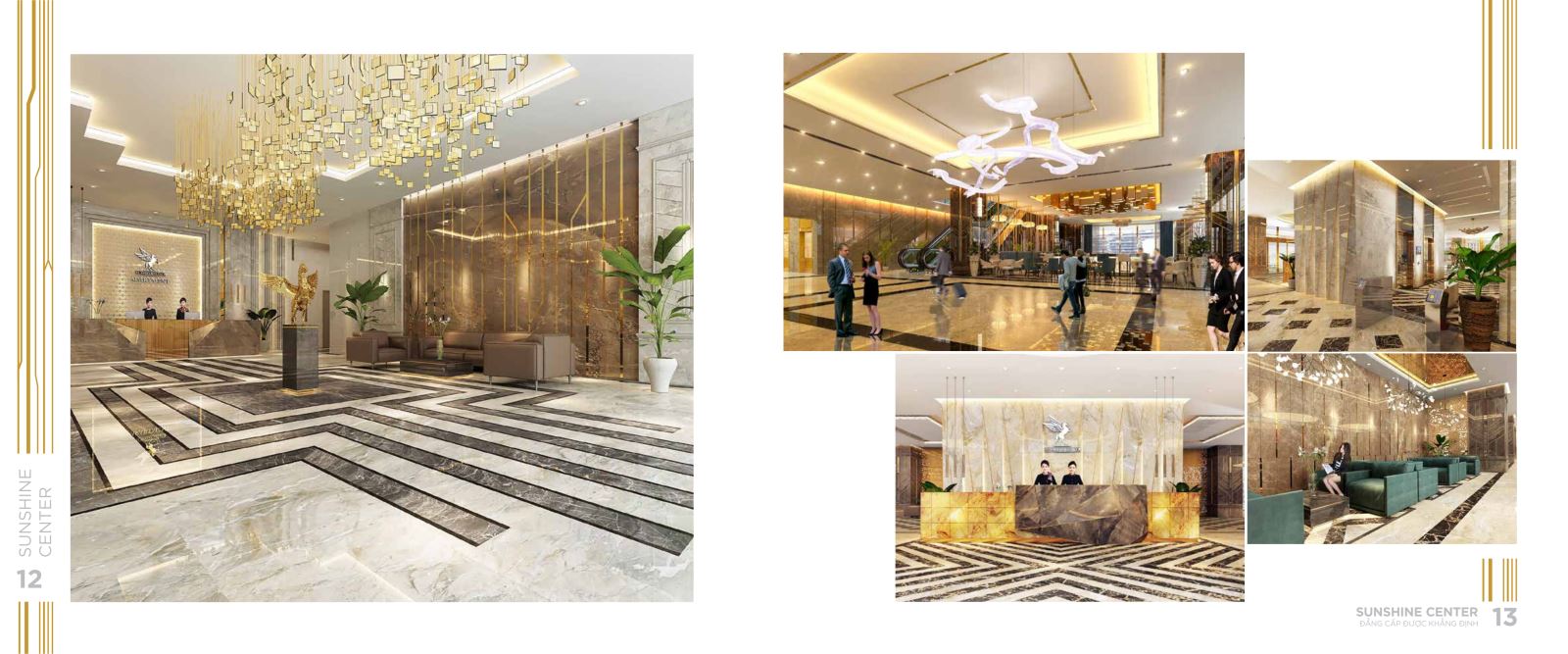 PROJECT UTILITIES
high- class Utility
Sunshine Center Apartment fully integrates utilities to serve the needs of modern life of customers and residents. The office complex is equipped with high-class and luxurious interior equipment. The rooms are designed spaciously and beautifully thanks to the layout of electrical systems and sophisticated windows.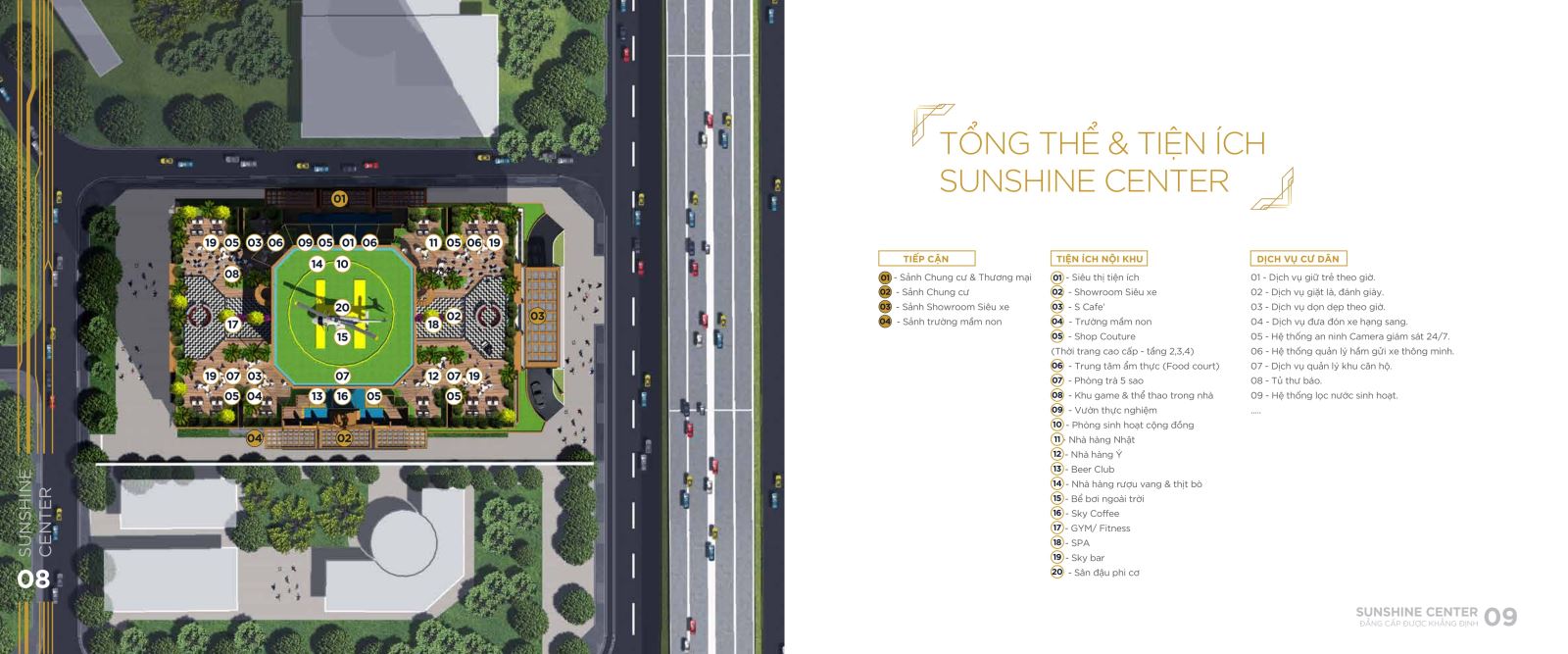 The level is affirmed by the trendy beauty of Sunshine Center, which contains inside the art of enjoying the delicate life of the elite through the system of top-notch utilities.
The most sophisticated commercial center in the west of the capital, home to the world's top luxury brands, serving the optimal shopping and enjoyment privileges of the rich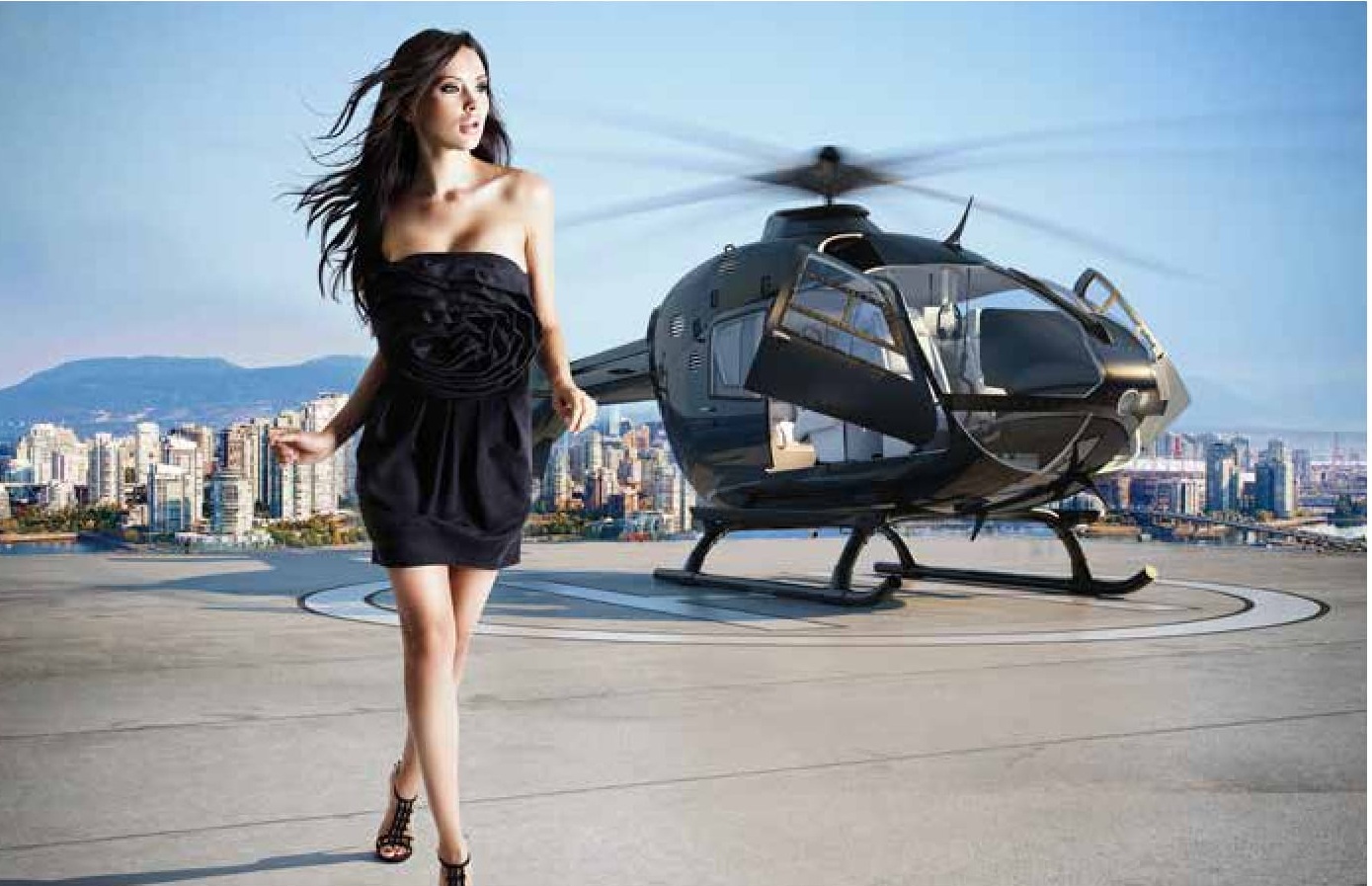 HELICOPTER LANDING PAD on the rooftop affirms the best rank of the building
PARADISE OF ENTERTAINMENT integrates hundreds of high-class services to satisfy all privileges of relaxation and relaxation of homeowners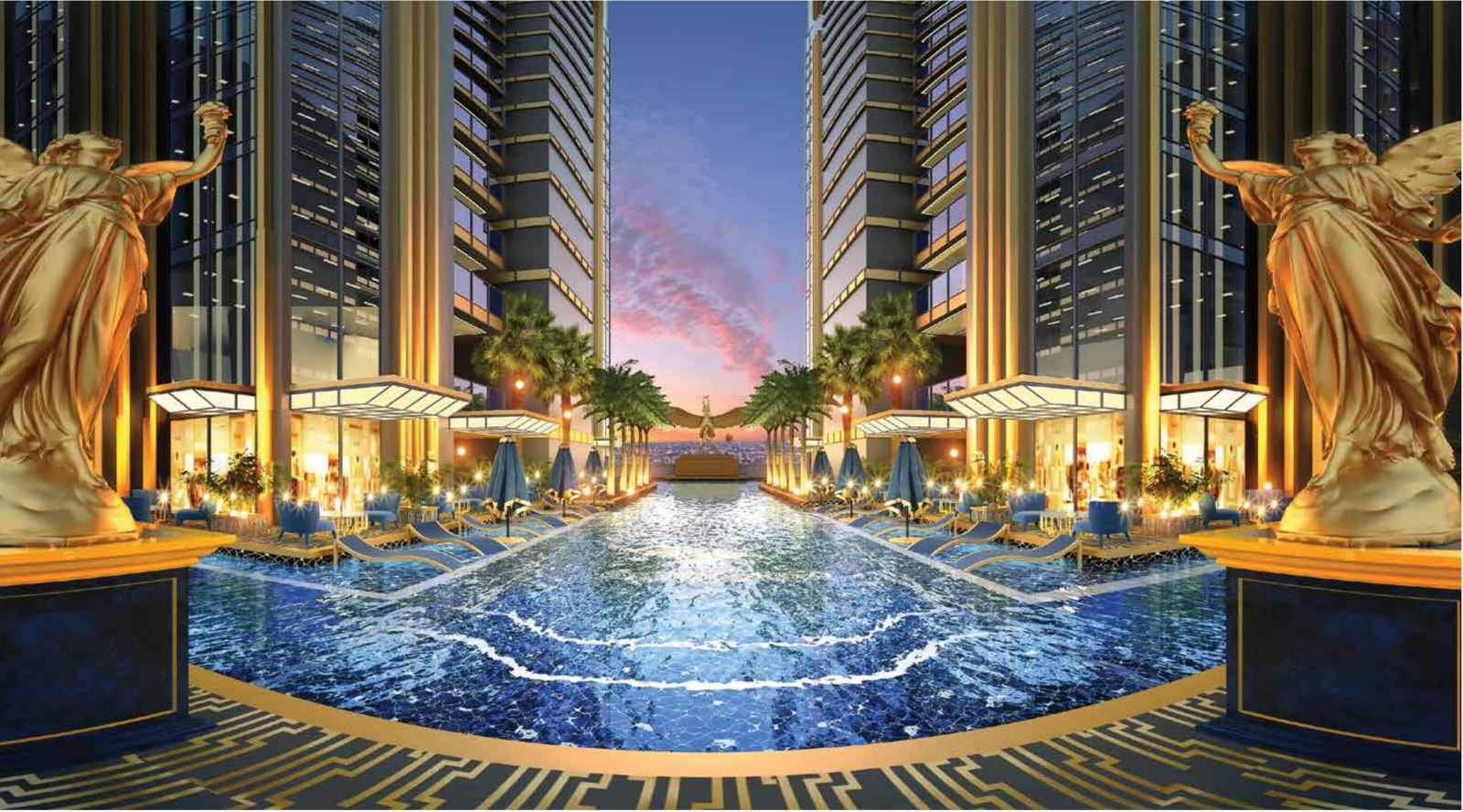 INFINITY POOL with spacious sun deck specially designed between natural spaces. The world of lavish relaxation in the middle of the blue sky is the serial brick between 2 apartment towers, creating a noble character that adds to the splendor of Sunshine Center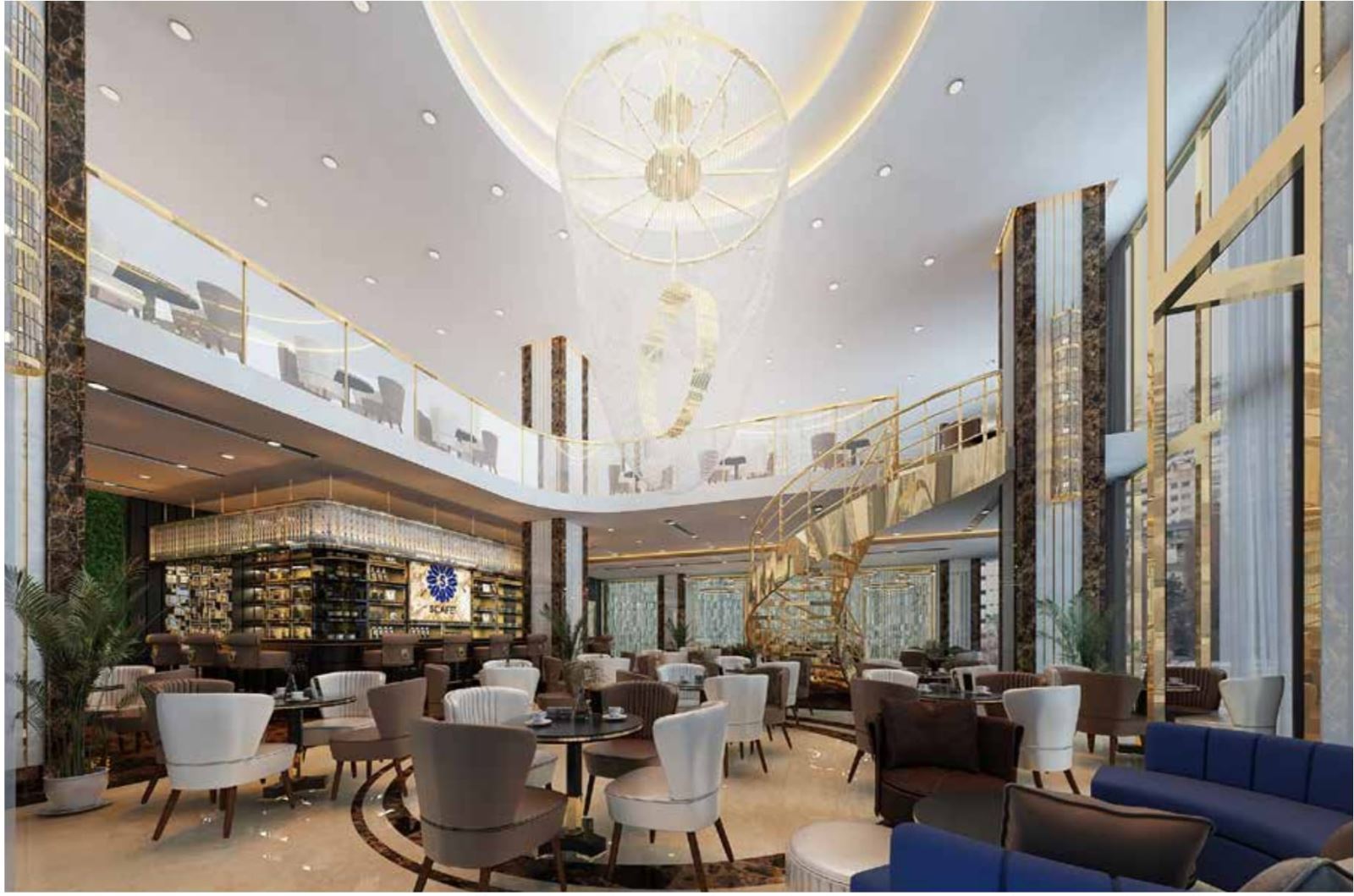 Cluster of GENERAL SERVICES combined with indoor landscape is set up many utilities: S-Cafe, luxurious restaurant chain, Beer Club, experimental garden, 5-star tea room, integrated health training area (Gym , Yoga, ...) combined with the array of green trees arranged alternately to create visual accents, bringing Sunshine Center into an elaborate building, an exceptional lifestyle
INTELLIGENT TECHNOLOGY All apartments have built-in synchronous infrastructure to be able to install smart devices for Smart Home model.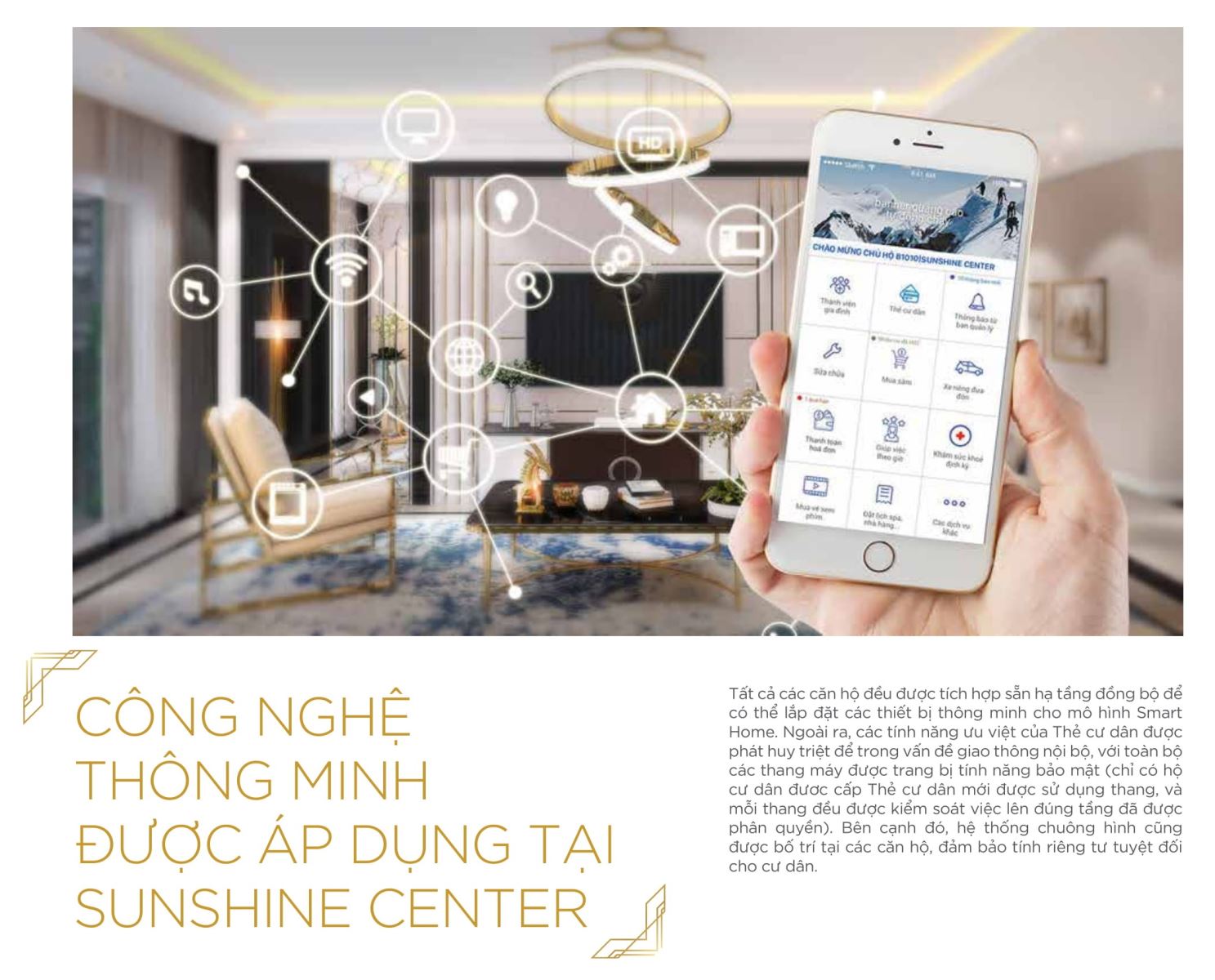 APARTMENT DESIGN
GOLDEN-CLASS APARTMENT, ROYAL SPACE
Sunshine Center has a diverse apartment structure, including typical apartments and the trendy Penhouse, with separate interior design projects for each discerning owner, inspired by a slightly more oriented apartment " heads of state "with details of gold inlaid, marble tiles, or drawings that depict Greek mythology
With extensive experience through the development of many large and classy projects, Sunshine Design architects have created a Sunshine Center that has a strong vitality with high values ​​of quality of life and aesthetics peak. The combination of modern youthfulness of materials, new high-end gadgets in a standard shape, lines and interior details creates a Sunshine Center as the intersection of the flow of life, where Find out to discover new things that are also the place to return to rest your soul
HIGH-GRADE MATERIAL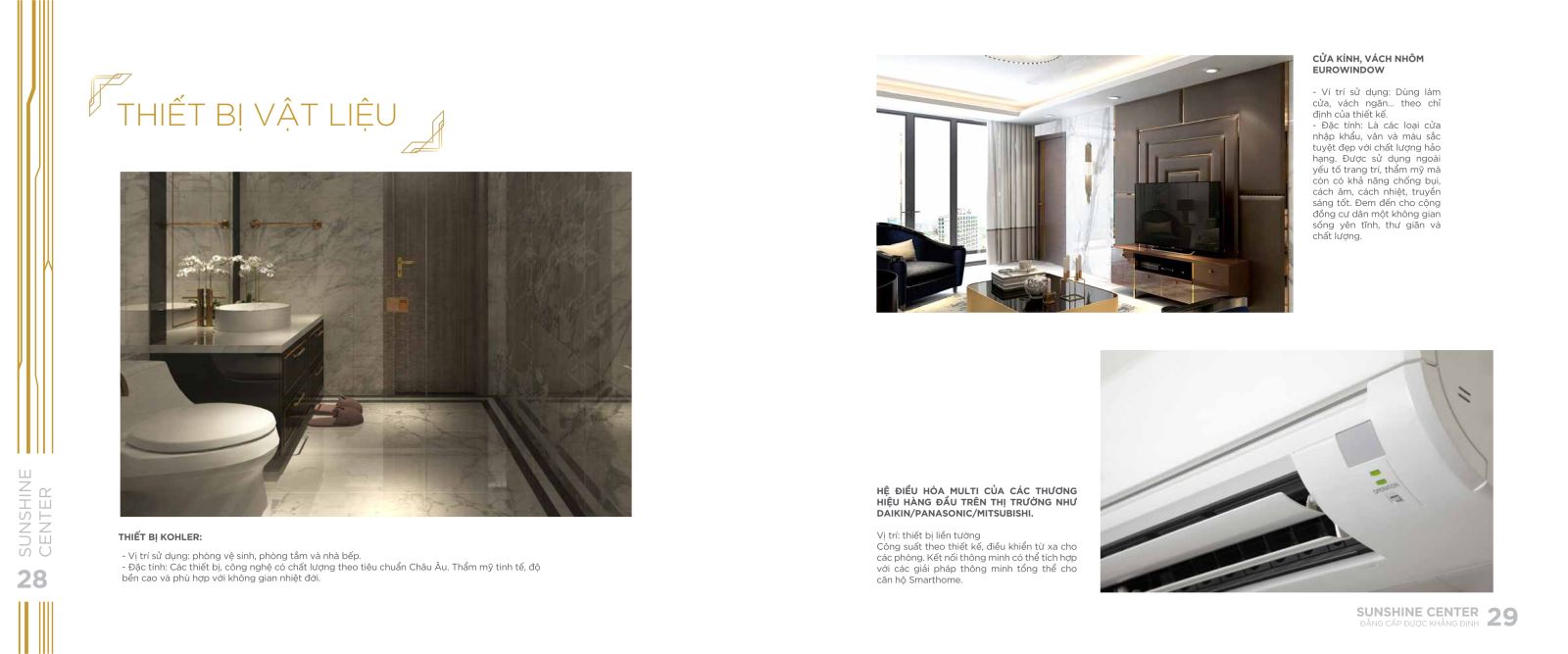 PAYMENT TIME