PROJECT INFORMATION
Project name: Sunshine City
Address: Ciputra - Nam Thang Long, Bac Tu Liem, Hanoi
Owner: Sunshine Group
Construction unit: Hoa Binh Corporation
Project scale: 6 buildings of S1 - S6 luxury apartments
Type of development: High-end apartment
Design style, detailed ground design: European and American design
Area of ​​trees, public, roads: 26,073 m2
Total project area: 21,702 m2
Total construction area: 16,114m2
Construction floor area: 257,642.4 m2
Building density: 38%
Number of basements and total basement area: 3 basements with an area of ​​49,932.6 m2
High floor of buildings: 38 - 40 floors
Number of commercial floors and area: 3 commercial floors
Number of properties: 1791 apartments
Real estate structure: 2 -3 high-class apartments
Property area: 85 - 108 m2
Starting time: Quarter IV / 2016
Handover time: Quarter IV / 2019
Sale price of real estate: 30 - 40 million / m2
POSITION AND FUTURE PLAN
Located on the southern bank of the Red River, Sunshine City enjoys full vitality of life , prosperous flow, so the project converges all elements to become the most worthy urban area in the Capital.
Sunshine City project is located between the West Lake West development axis
There is a large transportation network: bordering on arterial roads Vo Chi Cong and Nguyen Hoang Ton, close to Pham Van Dong, ring road 2,3, Nhat Tan bridge, Thang Long bridge, ...
Sunshine City condominium is adjacent to the Metro railway
Adjacent to Vietin Bank tower - the new symbol of the capital
​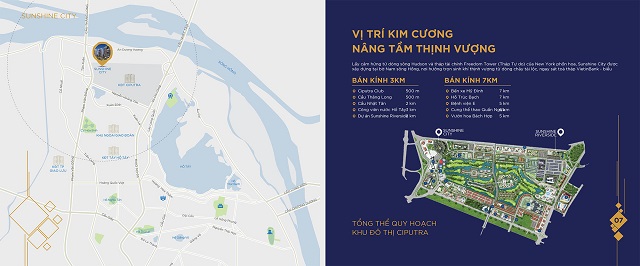 With this diamond position, Sunshine City deserves to become the largest and most luxurious urban area in Hanoi.
DESIGN AND PREMISES DETAIL
Inspired by New York's thriving life, and the unique architecture of Paris, Sunshine City will offer you a wide selection of stylishly designed 2 - 3 bedroom apartments. Most important, top class Hanoi.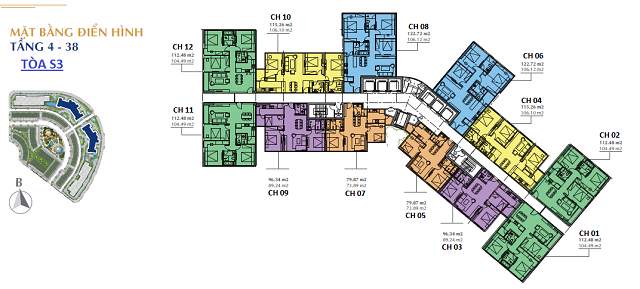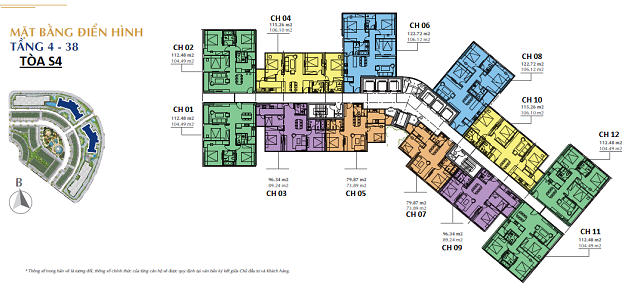 UTILITIES AND LANDSCAPE
Aiming to bring residents into a high-class life, Sunshine Group has devoted itself to building a superior class utility system.
- Internal utility system: more than 40 utilities such as Sky bar, bustling shopping center, Spa, infinity pool, Asian - European restaurant, ...
- External utility system: enjoy all the high-class utilities of Ciputra urban area such as schools, kindergartens, hospitals, amusement parks, entertainment centers ...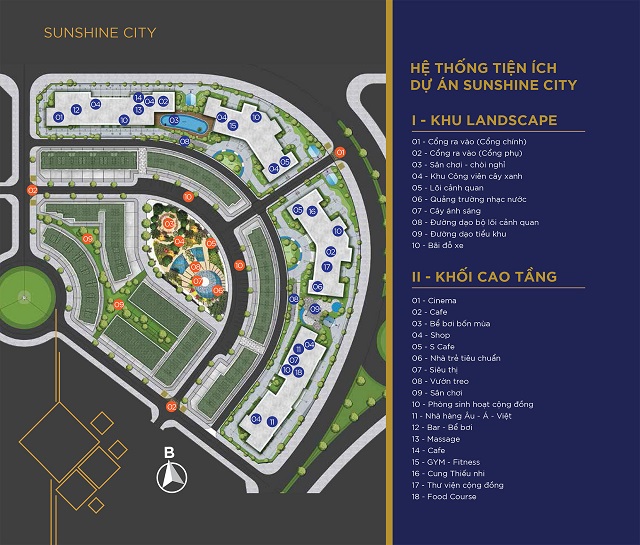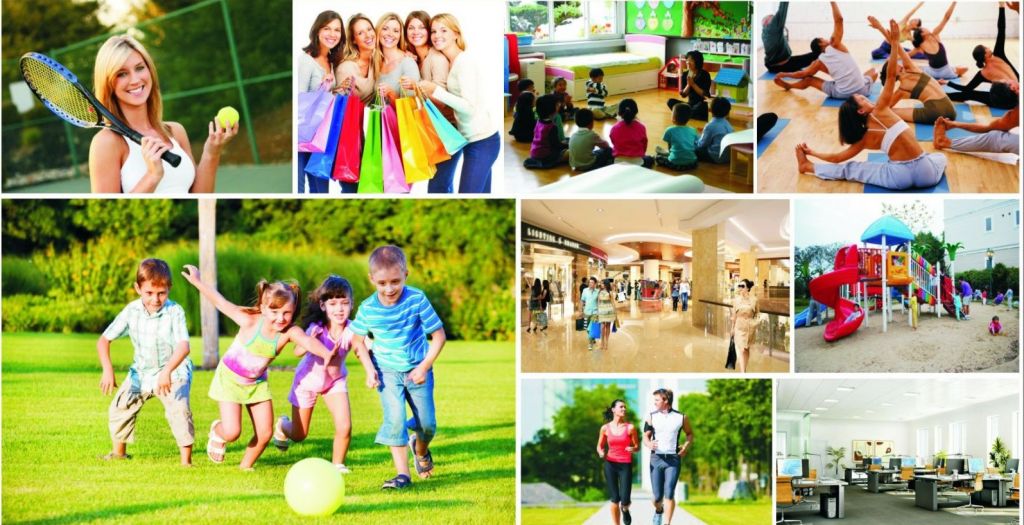 In particular, the highlight of Sunshine City is Smart Home service. You can manage your home right on your smartphone. After a hard working day, before returning home, you just need to press "go home" on Smart phone, the heater, fan, air conditioner will turn on so that when you go home everything is ready to serve. Or when you are going to bed, instead of turning off the power, closing the door , it will help you do it. Things will become much faster and more convenient.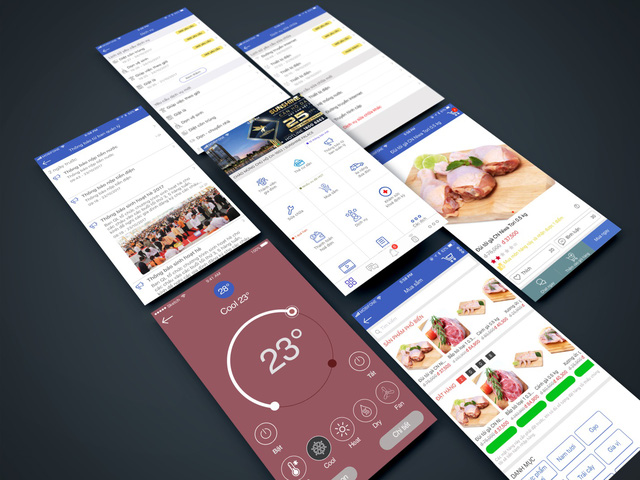 Living in Sunshine City, you will enjoy the best facilities, to reach a comfortable life that every resident dreams of.
DELIVERY OF BASIC FURNISHED
The Sunshine City furniture used is the top famous brands: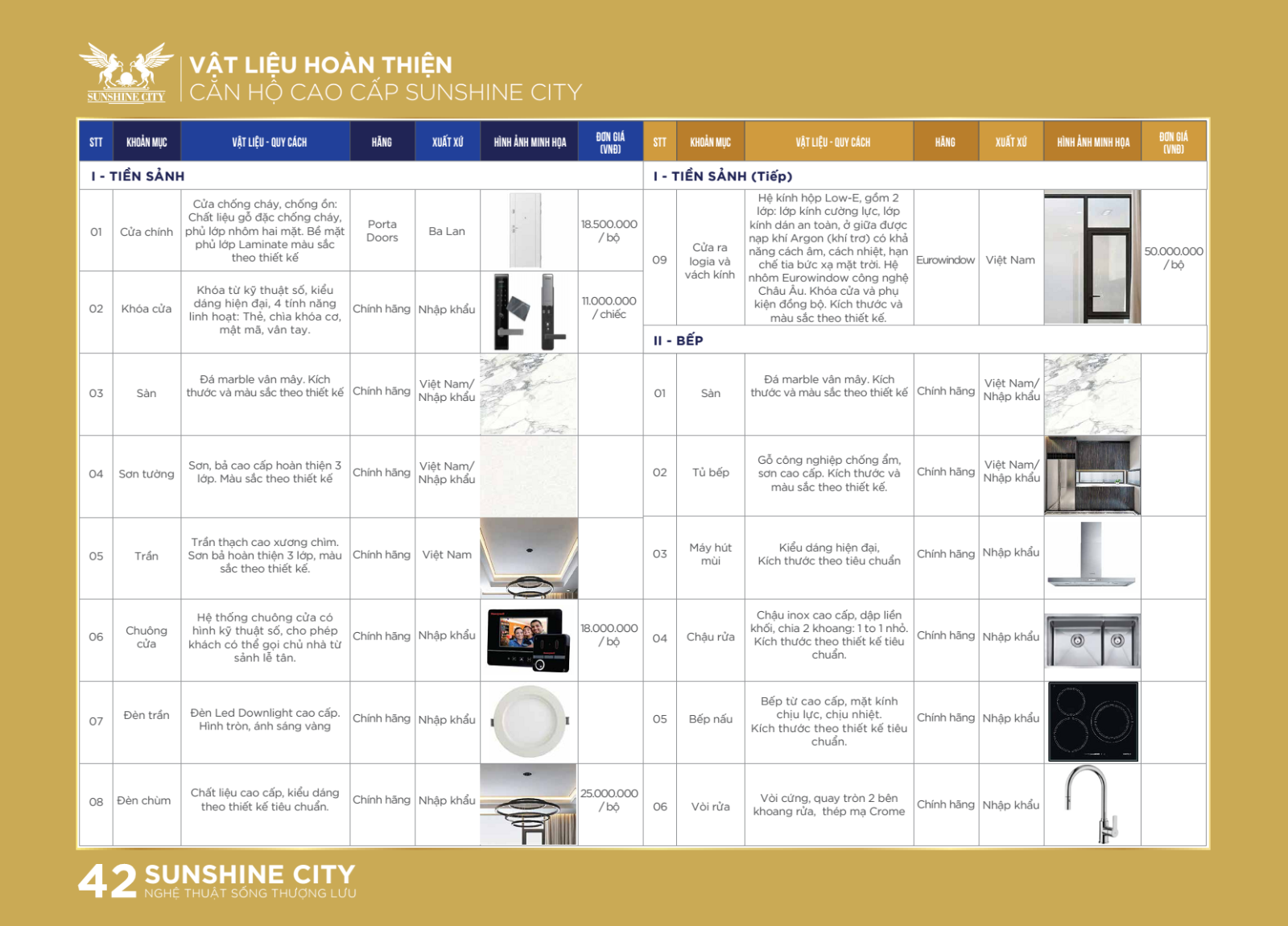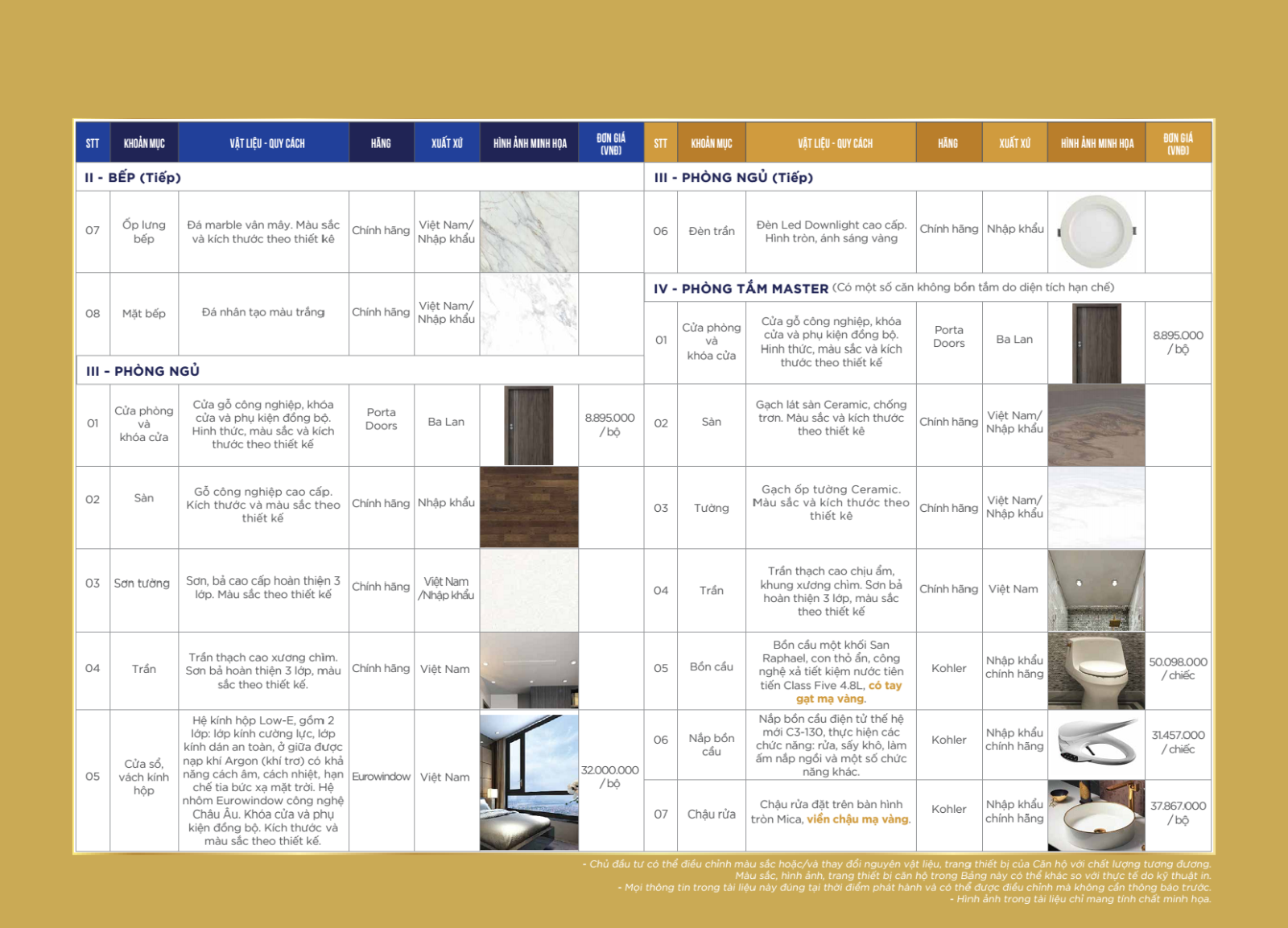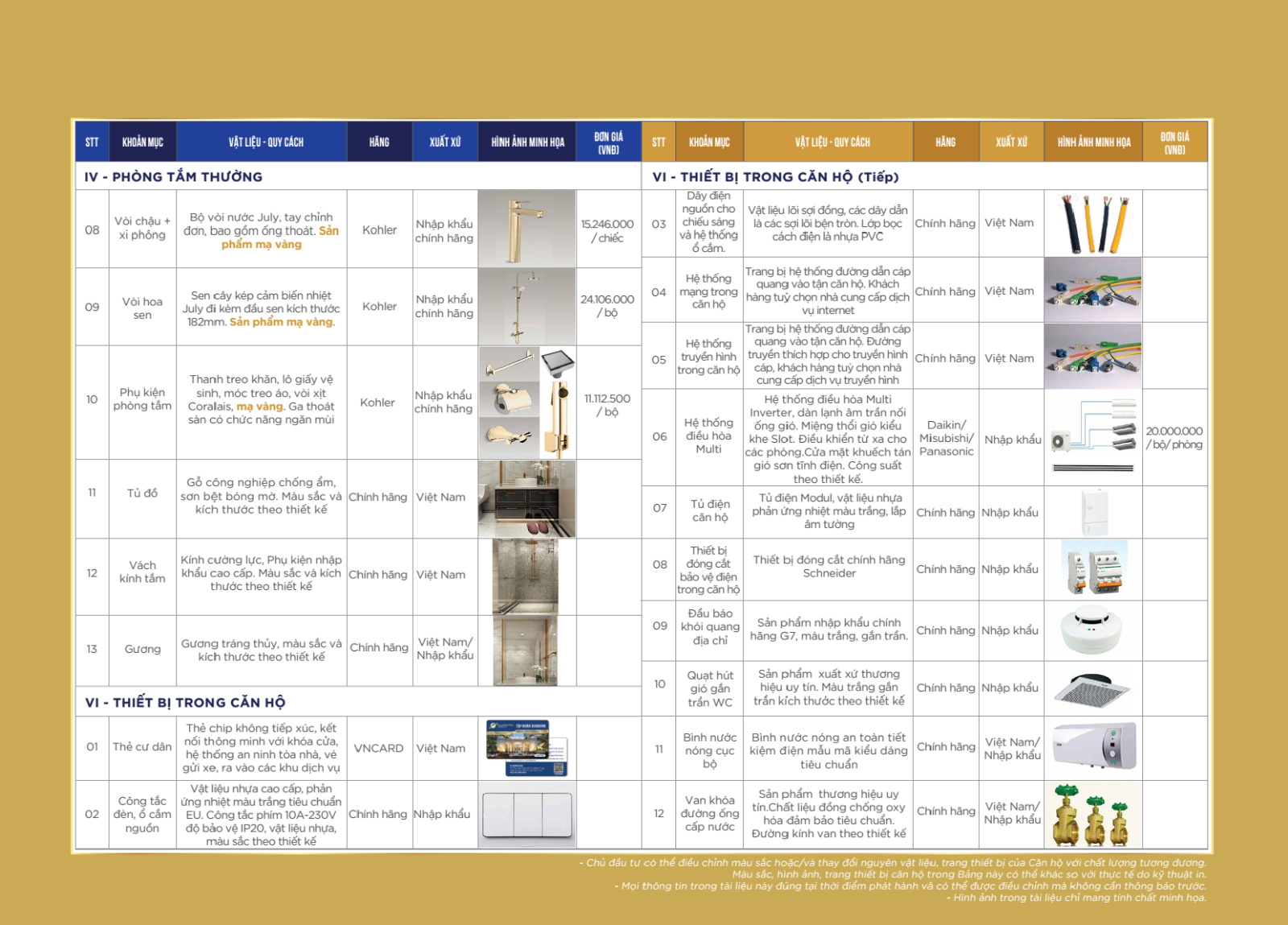 SALE POLICY
PROGRESS

PAYMENT RATE BY PROGRESS

(Giá bán căn hộ)

DURATION

BEFORE MAKING SALE CONTRACT

DEPOSIT

100.000.000 vnd/unit

The date of signing the deposit agreement "TDA"

KÝ HĐMB

First installment

20% apartment's price (include VAT)

Total payment made before signing the contract will be deducted from the value stated in the contract

(Finishing foundation)

Right after signing the purchase contract

In 10 days from "TDA"

Second installment

10% apartment's price (include VAT)

(Construction completed to 5th floor)

On 30/5/2018

In case the day Customer signs the Sale Contract And make payment on the same date or after the second payment, it will accrue to the 1st Payment (Approximate 30% apartment's price)

Third installment

10% apartment's price (include VAT)

(Construction completed to 15th floor)

On 08/8/2018

Fourth

installment

10% apartment's price (include VAT)

(Construction completed to 25th floor)

On 17/10/2018

Fifth installment

10% apartment's price (include VAT)

(Construction completed to 35th floor)

On 26/12/2018

Sixth installment

10% apartment's price (include VAT)

(Cất nóc công trình)

On 25/02/2019

Seventh installment

25% apartment's price (include VAT)+ 100% maintenance funding + VAT of 5% apartment's price

when being delivered of the apartment according to the Notice from the Owner, expected Ss IV/2019

Eighth

installment

5% apartment's price (exclude VAT)

When the Investor hands over the Certificate of land use rights, ownership of houses and other assets attached to the land
WHY YOU SHOULD CHOOSE THIS PROJECT
- Prestigious investor
Sunshine Group is one of the top 100 strong brands in Vietnam in 2017 and has many successful projects such as Sunshine Riverside, Sunshine Palace, Sunshine Center, ...
- Diamond position in the heart of the capital
Sunshine City is located in a land that is considered to be a condensation of the flow of prosperity, the flow of financial, and a place with dense urban transportation network, easy to move to the city center and the other regions in the region. Moreover, it is next to Vietin Bank Tower - Hanoi's new iconic financial tower ... With such a favorable position, it has created a strong position for Sunshine City to attract customers.
- Superior class facilities.
Sunshine City project owns outstanding utilities with chain of restaurants, Sky bar, Gym, infinity pool, shopping mall, ... Especially, it is Smart home utility with 4.0 pine technology application minh. You will actively control and manage your home in a convenient and modern way right on your Smart phone.