Located on prime location in ' Sunshine Riverside' is high-class apartment project with modern and sophisticated design. Sunshine Riverside project is expected to become a prominent highlight of real estate market in 2017.
Sunshine Riverside project is a rare land-based project that is ideal place with view overlooking West Lake and Red River, feng shui is harmonious and prosperous. Choosing Sunshine Riverside project, customer will have opportunity to enjoy fresh air in here
The project is situated under of Nhat Tan Bridge, adjacent to Vo Chi Cong street, which takes only 20 minutes to Noi Bai National Airport, just 10 minutes to inter city, and 15 minutes to Hoan Kiem Lake.
Ideal view and beautiful feng shui is main reason why Sunshine Riverside has stired up real estate market. The project is considered as new breakthrough of invertor in order to bring to residents class life with the most airy space in Hanoi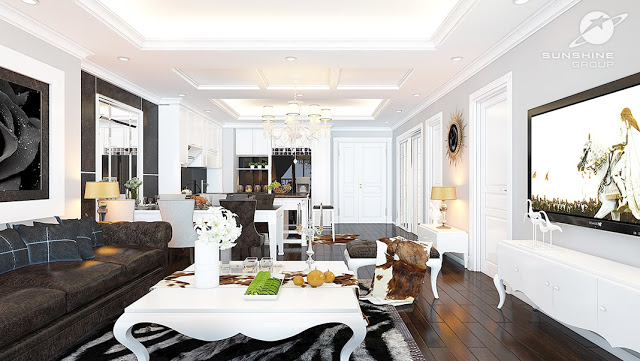 The heart of investor to Sunshine Riverside is that each apartment is a luxurious life matching to Golden position of Sunshine Riverside in Tay Ho. Inspired by neoclassical European style with contemporary inspiration, Sunshine Riverside is a symbol of aesthetics, elegance and sophistication in design, combined with modern technology that bring to living space harmonious and comfortable but not lost elegance and nostalgia of capital's people.
Sunshine Riverside project is designed sufficiently styles and areas that is suitable for each demand and economic conditions of customers with 350 apartments from 2-3 bedrooms, area of 65-170 m2. Each apartment is designed to use maximum utilities as well as using area for living.
Outstanding value of Sunshine Riverside is that each apartment will enjoy the most natural light and wind, bringing people as close to nature as possible. Customers will be experienced natural life with clouds, water, lake.
Not only is an ideal home, Sunshine Riverside Tay Ho is also an surpassing investment product which is potential for lease in West Lake area. Hometel is the first appeared model in the project, customers owned both luxury apartments and enjoy amenities as a five star hotel. That is why renting apartments is extreamly worth and increase in month by month.